A big, bargain-priced open console fishing tinnie with heaps of interior space and a safe, seaworthy vee hull
Anglers searching for more boat for their money should look closely at the new Makocraft 521 Heavy Duty SUV. Rigged with the optional centre console and overhead alloy T-top, this versatile alloy open boat is priced from less than $40K with a Mercury 75hp four-stroke outboard and quality Dunbier trailer.
Overview
With the debut of the Makocraft 521HD SUV (Sports Utility Vessel) the classic Aussie fishing tinnie is alive and well. Eschewing some of the costly features, bells and whistles of some rival brands, the 521HD SUV is a back-to-basics, no frills open boat with a big, flat floor, plenty of freeboard, fully welded (as opposed to spot welded) side decks, and lots of interior fishing space.
There are three HD SUV models in the 40-strong Makocraft boat range. They include the 445, 481 [...]
A Great Canvas To Work From !!
We have done a number of boat tests on the Queensland-manufactured Clark Aluminium boats and the thing that has stood out on each occasion is the value for money they represent.
The latest offering from Clark is the Rebel Series and the 449 Rebel Centre Console is part of the range. I had the opportunity to put the 449 CC through its paces and to see whether it too offers the value that the other ranges in the Clark stable offer.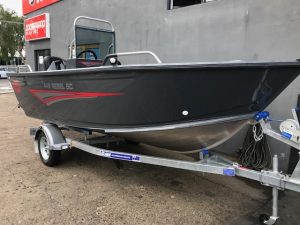 What a 449 offers
The 449 Rebel is [...]