MAKOCRAFT 4.85 MF FRENZY
Makocraft 4.85 MF Frenzy: a tough as nails tinnie.
Built like the proverbial brick outhouse, Makocraft's 4.85 MF Frenzy is dedicated to recreational anglers, reports Andrew Norton.
Makocraft 4.85 MF Frenzy: a tough as nails tinnie.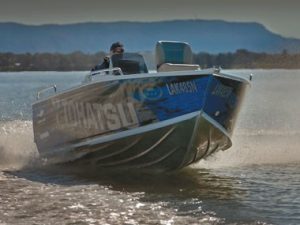 Despite owning several fibreglass hulls, what I really love is my collection of tinnies, thanks to their robust durability and low-maintenance nature. They can be left on a concrete launching ramp while I park the car and trailer, and – more importantly – they don't complain when left at the mercy of the branches that regularly fall from the massive swamp mahogany trees that populate my overgrown yard.
The 'glass hulls, meanwhile, have all but disappeared in the 1.5m grass – I tell my neighbours I'm letting them grow because it improves my carbon offset and generates extra oxygen for them. But my tinnies, the apples of my eye, are much better cared for and most of the time they sit on trailers in mown sections of the yard, ready for fishing should I ever find anyone brave enough to go with me.
Needless to say, when the national Tohatsu Outboards distributor, Lakeside Marine, offered me an OEDA 3-Star TLDI 90 for testing – also mounting it on a Makocraft 4.85 MF Frenzy – I jumped at the chance. I'd already tried both the 2- and 3-Star TLDI 115 on a Makocraft 560 Trophy centre-console, so why not see what a smaller Makocraft hull would be like?
It's a tall ask expecting any hull under 5m to handle three adults, but with its compact side-console the 4.85 can accommodate them without any regular stubbing of toes on protrusions. This boat is also built tough, with 3mm bottomsides and 3mm topsides of marine-grade alloy.
Forward is the ubiquitous cast bowsprit and roller, and just aft of this there's a deep anchorwell that can hold enough chain and rope for lake and estuary fishing. Two side-hinged hatches open atop a forward buoyancy compartment to reveal plenty of space for spare PFDs, ropes and all the garbage that inevitably ends up aboard a boat. A lean seat slots in between these hatches for anglers who opt for a bow-mounted trolling motor, while a 100lt livebait tank can be fitted under the aft end of the forward casting platform if needed.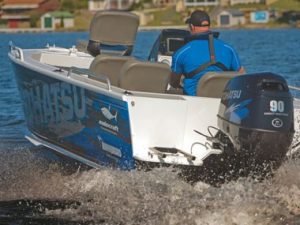 One step down from the forward casting platform is the main cockpit floor, which is carpeted. To starboard there's a compact, plastic-topped side-console complete with tinted Perspex 'screen (which should actually be clear for safer night navigation) ahead of where the fishfinder / GPS unit would be mounted. Unfortunately, the Humminbird unit fitted wasn't wired up, so my aging Lowrance handheld did the job of providing ground speed during the performance trials.
The swiveling, upholstered bucket seats are very comfortable, and to port there's a recess long enough to hold rods and gaffs, although four rodholders also come as standard. Aft of the passenger seat is another upholstered seat, which thankfully is removable because that's where I shoe-horned myself in while conducting fuel flow trials for the TLDI 90 (Tohatsu is yet to offer digital instrumentation such as Mercury Marine's SmartCraft system).
HANDLING AND RIDE
Factory uprated from 75hp to accommodate the 90hp Tohatsu, the 4.85 handled predictably when we leapt over the wash of our camera boat. Fitted with self-adjusting trim tabs, the hull had less of a lean to starboard than expected when operated one-up, and doubtlessly this reduced our planing speed. However, the hull had a tendency to porpoise above 28kts (52kmh), which could be cured by trimming in the 90 and reducing rpm.
Over the low chop on an autumn afternoon on Lake Macquarie, NSW, the hull rode softly with a cushion of air between the bottom sheeting and long track rails, which also made the boat track very well when running across the chop or downwind. Through hard turns at 4000rpm the G-forces were considerable as the hull cornered almost flat, whereas most hulls of this length would bank a lot more. The optional hydraulic steering was light but reasonably direct.
Back at rest, the 4.85 easily handled two adults (total 200kg) fishing from one side and it wasn't at all twitchy when fishing from the forward platform.
THE WRAP
The most outstanding feature of any Makocraft I've tested would have to be the sheer honesty of these boats. They're neither the best-finished boats nor the softest-riding, but they do everything a recreational angler is likely to ask of them, and with their tough construction and a little TLC, they will last a lifetime. At around 900kg on a braked, keel roller trailer, the towing weight including a full fuel tank and all required safety gear is easily handled by four-cylinder utes and most mid-range family cars.
On the plane…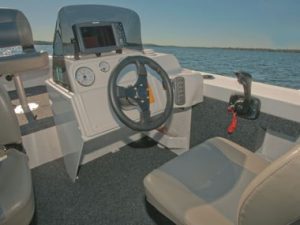 * Strong construction
*Dedicated fishing layout
*Predictable handling
*Good performance
Dragging the chain…
*Hull porpoises at higher speeds
*Tinted windscreen would restrict vision at night