Zego Catamaran Sports Boat Review
What is a Zego, you may ask? It's a small twin hulled craft with an inline bench seat and forward platform that is insanely stable
February 25, 2017

Posted by

Get That Boat Loan
Comments Off

on Zego Catamaran Sports Boat Review
Boats come in all shapes and sizes with all manner of uses in mind. If you're a keen angler and looking for a versatile yet small platform to fish from, that is capable of inshore and offshore applications, then small aluminium boats and personal water craft used to be your only poison. However, aluminium boats are a limited option offshore, and personal water craft have space issues. Well, say hello to the Zego.
What is a Zego, you may ask? It's a small twin hulled craft with an inline bench seat and forward platform that is insanely stable, easy to handle and capable of beach launches. The design is relatively simple with a foam-filled catamaran design hull with a platform bolted on top. They're designed and built in Waipo, New Zealand, and if you know anything about the conditions they have over there, you know this thing will be more than capable of handling a maelstrom.
The truth is, they've actually been around for years and have been used as research vessels, fishing platforms and everything in between. An intrepid adventur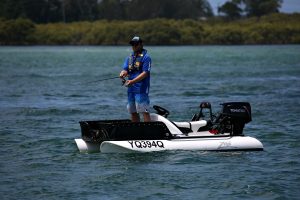 er and inventor who wanted a platform he could launch off the beach by himself came up with the idea. A simple start but the simplicity of the Zego is it's most endearing feature.
WHAT YOU GET
The Zego is a twin-hulled platform made of roto-moulded polyethylene plastic. The hulls are foam filled, which means that the craft is not only incredibly stable, but it will also float in the very unlikely event it flips or if the hull is compromised. The hull is also incredibly light weighing around 125kg without an engine and 180kg with the engine.
On top of the twin hulls sits another polyethylene plastic cockpit with a bench seat running forward to aft and self-draining foot wells. At the front of the cockpit a simple sports steering wheel provides direction control with an easy to reach throttle to the right.
The bench seat lifts away to reveal storage and a flare container, while the maximum 12-litre fuel tank sits at the rear of the craft behind the seat. Across the transom an aluminium rocket launcher runs over the top of the engine and provides rod storage.
The entire front section of the boat is a 1.5 x 1.5m aluminium checker plate platform that is stable and provides ample fishing room. Two people can comfortably fish from the Zego with one person operating from the bench seat and the other from the bow platform. The test boat also had an aluminium frame that was about 300mm off the deck that enabled an optional splash guard to be fitted around the entire area. The platform could have a pedestal seat added for comfort, or you could strap in your esky here and use that as a seat.
All up the craft is capable of handling a maximum of 225kg in any way you want to configure that, be it gear or people. The plastic construction means owners can elect to fit sounders and other electronics themselves with self-tapping stainless screws and silicone, or have the boys do it in the factory.
POWER
The test craft was powered by an electric start Tohatsu 30hp that provided a spritely performance. I did hear of another Zego fitted with a 40hp engine, however, I think 30 is more than enough for the light weight hull.
ON THE WATER
Think go cart and you would be close to the mark. The Zego sits pretty low to the water, yet it remains very dry. I crossed the wake of several boats and performed some extremely tight corners in an attempt to cool myself down from the blistering Sydney summer heat to no avail. I expect offshore where winds may be stronger you could expect more spray.
It really is a confident hull that is economical to run. It turns tight, in fact a little lean in is necessary to stop you from falling overboard from the G forces. At speed, it turns exactly like a larger twin hull or catamaran — flat and fast.
When you stand up to fish, you step over the front of the cockpit onto the platform at the bow. It's easy and supremely stable.
TOWING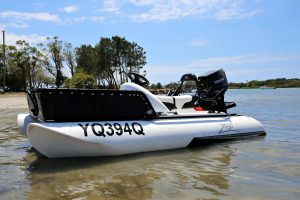 Sitting on a single axle Sea Link trailer, the Zego is very simple to launch and can be towed with almost any vehicle. All up with trailer the weight falls well below the unbraked limit of 750kg.
OVERVIEW
I do love a PWC for solo fishing, but the Zego has made me rethink my options. It has enough space for any style of fishing, is just as much fun to drive and more stable which makes it safer than a similar-sized mono hull option. In fact, I think I'll hit them up for one to chase a marlin this summer.
                                                                        POSITIVES
Easy to man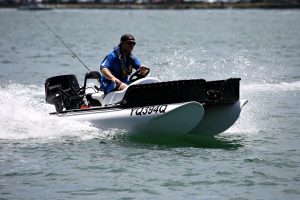 age
Fun, fun, fun
NEGATIVES
Fuel tank size
Price: $15,990 (as tested)
Construction: Polyethylene
Length Overall: 3.00 metres
Beam: 1.62 metres