Author Archives for Get That Boat Loan
Weekly Payments From $41.00 Per Week T.A.P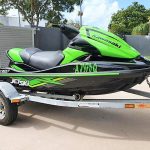 2019 Kawasaki STX15F
Make No Mistake – This Ski is Great Value !!
This ski is like new always washed and flushed after each use. It has the following features:
– Only done 70hrs
– Serviced by us on 7/9/2021 with full service report
– One owner, well known to JetSki United
– Original all weather cover
– 160hp 4 cylynder Fuel Injected
– 4 Stroke 1500cm3
– Top speed 106km/h
– Warranty until 28.11.2022
– Warranty can be extended for another 5 years
– Non-supercharged, more reliable
– Never used for wave jumping
Freight Available Australia Wide at Competitive Rates
This Boat Has Been Workshop Inspected And Is Certified,
Ready To Tow Away Today.
WHY USE ? www.getthatboatloan.com.au
GetThatBoat Loan -Preferred Dealer Network
We have quality boats from our Get That Boat Loan "Approved" dealer network. All Boats come with clear [...]