Get That Boat Loan is now the Queensland home of Sportscraft & proud to present the Sportscraft SF500
Sportscraft boats are about as South Australian as Coopers beer and the Adelaide Crows, we intend to make them as popular as the Mighty Maroons or Wally Lewis
February 17, 2018

Posted by

Get That Boat Loan
Comments Off

on Get That Boat Loan is now the Queensland home of Sportscraft & proud to present the Sportscraft SF500
Get That Boat Loan is now the Queensland home of Sportscraft & proud to present the Sportscraft SF500
Sportscraft boats are about as South Australian as Coopers beer and the Adelaide Crows, we intend to make them as popular as the Mighty Maroons or Wally Lewis. They have been made in SA for decades, filling a certain market niche and enjoying steady sales across the state. On Tuesday morning I climbed aboard the largest model in the range to go for a run, and I can tell you it was quite exhilarating out there on the Gulf. It had been blowing 25 knots from the west overnight, and although the wind had abated considerably by daybreak, there were still plenty of whitecaps to contend with.
It's not all that often that I get to test locally-built boats, and invariably a pleasure when the opportunity arises. With the recent closure of Clayton Marine, the number of SA-based manufacturers is gradually diminishing, which is a pity. One local brand that just 'keeps on keeping on', however, is Sportscraft, distributed here by Pacific Marine.
Last week I revisited one of Sportscraft's original and most popular models, the nifty little SF500. This boat has been around for some 20 years, but during that period it has been refined and upgraded to keep pace with current trends. It's a cuddy cab designed primarily for coastal fishing, but one that would be equally at home in our larger estuaries, on the Murray or out on the Gulf in reasonable weather.
I have tested several SF500s since its introduction in the mid '90s, powered by a range of both two and four stroke engines between 50-70hp. The boat I took for a spin early last week had been fitted with a new Honda BF60 four stroke, which I feel is close to the ultimate choice. This is indeed a sweet outboard, and among Honda's best sellers worldwide. It's light, super quiet, extremely economical and offers one of the best power-to-weight ratios in its class.
As far as interior layout goes, the Sportscraft SF500 has always been uncomplicated, with emphasis placed on providing maximum fishing room. You need all the space you can get when you head out for the day in a craft of this size, and fishing three in comfort would be no problem at all.
The cuddy is quite small, but does offer a reasonable measure of dry storage and somewhere to put your head down if it rains. The dash carries a three-piece windscreen, and there's sufficient room to fit a mid-sized sounder/GPS combo unit and marine radio. Swivelling bucket seats are comfortable enough, and there's a well proportioned hatch in the foredeck for easy anchor access.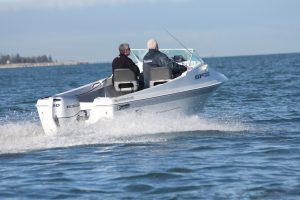 The SF500 comes on a single-axle Dunbier trailer, which would be easy to tow behind the average family sedan. Both launching and retrieving are as simple as you could imagine, making this boat a good choice for anyone who fishes solo on a regular basis.
For a welcome change we had near perfect conditions outside North Haven Marina for the morning of our test run, with the lightest of westerly breezes, clear skies and plenty of sunshine. After clearing the heads at North Haven I pointed the Sportscraft's bow toward the Outer Harbor channel and opened up the throttle. As expected, the torque provided by the Honda BF60 had us up and away in the blink of an eye.
Top speed in these conditions (with three on board) was a smidgen better than 30 knots, while the hull loped along effortlessly at a cruise of 24. The hull turns predictably at speed and offers exceptional static stability for its size. It's a great little boat that would ideal for those keen to get onto the water for the first time.
Sportscraft SF500/Honda BF60 packages from Pacific Marine start at around $36,000.