It can't be emphasised enough how important it is to check a marine weather forecast as part of your trip preparation
Posted by

Get That Boat Loan
Comments Off

on Boating Safety: Check The Weather Before Every Outing
With the boating season well and truly underway, and hopefully the best boating conditions for the season still to come we though it was would be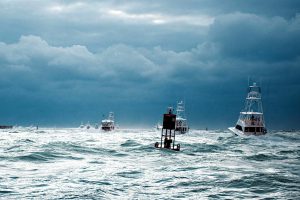 timely to remind you how important it is to check the weather before heading out for a day on the water.
It can't be emphasised enough how important it is to check a marine weather forecast as part of your trip preparation, no matter what time of year, how far from the shore you'll venture, or how long you intend to stay out.
The breeze can change quite dramatically, especially in the summer, when a strong afternoon sea breeze can change conditions dramatically.
Here are our top ten weather watch pointers to look out for when you go boating:
In the southern hemisphere, air circulates clockwise [...]
This is the "Ultimate" !!
Like several of our prominent boat manufacturers, Bar Crusher now offers several of its larger hulls with the hard top alternative. In a marine environment as harsh and often unpredictable as ours, there's simply nothing like a well-designed hard top to provide the ultimate in user comfort. Whether it's cold and wet in Tasmania or hot and oppressive in Queensland, you just can't beat sitting at the helm with a decent roof over your head.
I've now driven all of their hard top (HT) models, with the 780 my personal favourite. However, in a slightly smaller package it's hard to go past the Bar Crusher 730HT as a 'pocket gamefisher' – a rig that can take you wide in a hurry and get you back again in comfort and safety. This is indeed a handy-sized outfit, and one that's creating a lot of new interest for the Melbourne-based manufacturer.
I first saw the [...]